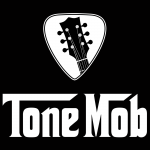 This episode is sponsored by the new Keeley Electronics Compressor Plus and the Sinasoid Cables Sasquatch! Both game changers and deserving of your scoping out.
On this episode, Joshua and I talk about bad guitars and good pickups, his start at Lollar, I try not to cry, and more! This is seriously touching and I hope you all get something out of it. Thanks for listening!
Check out Joshua's work at RighteousSoundPickups.com and Violet's organization at WeLiveLove.org.
Listen on iTunes
Listen on Stitcher
Listen on SoundCloud