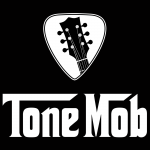 Put a fuzz circuit into a pizza enclosure. That is a simple thing to do right? Well… as it turns out… NO IT IS NOT.
Grant & Karen came on the show to chat with me about the development about Slice Of Pie so we could pull back the curtain on the process. This really was a true labor of love, with so many things going into it that are not obvious to the untrained eye. And probably some things that are not obvious even to the trained eye.
It was truly an insane process, and only folks who truly care about both guitar pedals and pizza could have pulled it off in such an epic way. I'm so excited for this to be out in the world, and I hope you enjoy this peek into the process.
Check it out HERE
TEXT ME (503) 751-8577
Support the show and get extra episodes over at Patreon.com/tonemob.
You can also help out with your gear buying habits by purchasing stuff from Tonemob.com/reverb Tonemob.com/sweetwater or grabbing your guitar/bass strings from Tonemob.com/stringjoy
Release your music via DistroKid and save 7% by going to Tonemob.com/distrokid