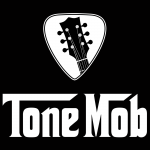 We are starting this year off with a BANG! Today I am talking with Ken Andrews from the band Failure. We dive into the rather unique way they recorded their latest release "Wild Type Droid", how a band can play around each other instead of with each other, their reunion, his dive into a fully digital guitar rig, and a whole lot more. This episode is an absolute blast. I think you will really enjoy it.
Check out Failure at their website HERE and scope out Ken's YouTube channel HERE.
TEXT ME (503) 751-8577
Support the show and get extra episodes over at Patreon.com/tonemob.
You can also help out with your gear buying habits by purchasing stuff from Tonemob.com/reverb Tonemob.com/sweetwater or grabbing your guitar/bass strings from Tonemob.com/stringjoy
Release your music via DistroKid and save 7% by going to Tonemob.com/distrokid