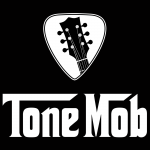 THIS IS A MASSIVE ONE! For me at least. Teppei is one of my favorite guitar players from my favorite band, Thrice.
Jeston Porter and I were able to sit down in the basement of the Roseland Theater in Portland and nerd out a few weeks ago. It was a wonderful experience and Teppei was fantastic to talk to.
We explored a lot of areas, but one thing of particular importance was the theft of their gear from their storage unit. We want to try to get Teppei's Les Paul back to him, and give you the chance to win a rad fuzz pedal!
So, we are giving away a Fender The Trapper Fuzz and some signed Thrice gear. All you have to do is navigate over to Instagram, and share THIS POST with the hashtag #FindTeppeisLesPaul. On Februray 17, 2020 I will scroll through the posts using that hashtag and randomly select a winner for the pedal. It is a long shot, but lets give it a go folks!
The serial number for the guitar is 82485530.