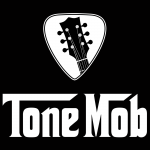 Episode 135- We have a fun one for you today! On this episode, Rocky and I have what is quite possibly the most on topic conversation of the podcast. Ever. Like ever. EVER. We talked about gear almost the whole time. Would you believe it????
Make sure you check out Mercy Union on all the socials and their music right right here: https://mercy-union.bandcamp.com/releases
Please make sure you check out Tonemob.com/reverb for putting some wind in the sails on every purchase you make through Reverb. It costs you nothing extra and helps out tremendously.
Listen on iTunes

Listen on Spotify

Listen on Stitcher