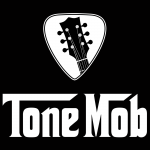 Time to get NERDY. Tristan Shone is the dude behind the one-man industrial doom act called Author & Punisher. He builds all of his own machines to create MASSIVE sounds that are absolutely unlike anything else. It is genuinely fascinating to watch him in action, and we had such an epic conversation.
Check him out at his website HERE
TEXT ME (503) 751-8577
Support the show and get extra episodes over at Patreon.com/tonemob.
You can also help out with your gear buying habits by purchasing stuff from Tonemob.com/reverb Tonemob.com/sweetwater or grabbing your guitar/bass strings from Tonemob.com/stringjoy
Release your music via DistroKid and save 7% by going to Tonemob.com/distrokid