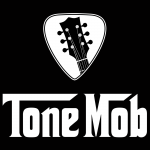 This is a real treat. Joe and I talk about the hazards of a gear nerd working in guitar retail, the history of the podcast, math rock, vibrato, phaser and much more! Make sure you check out the Guitar Nerds and his band Polymath.
Make sure you check out this week's sponsors Sinasoid and Gunstreet Wiring Shop. They have those things that you need. Trust me.
For more Mobbery and extra episodes, you might want to take a peek at  the Tone Mob Patreon. 
Listen on iTunes
Listen on SoundCloud
Listen on Stitcher